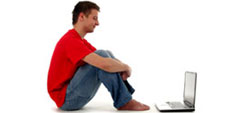 • Instantly Accessible Website
• FREE 10 Day Trial!
• Email Marketing System
• Unlimited Web Pages
• Professional Designs
• New Design at Any Time!
• Customisable Pages
• Your Custom Images (automatic resizing)
• File Management (i.e. PDF's, Word Docs)
• Add/Remove Pages
• Link Management (including email links)
• Links to Social Networking sites eg:
Facebook, Twitter, Blogs
• Unlimited Editing
• Unlimited Administrators
• Automatic Search Engine Optimisation SEO
• Website Hosting Included
• 5 Email Addresses
• Webmail Accessible from Any Computer
• Website Traffic Reports / Statistics
• 24 Hour Email Support
• Knowledge Base / FAQs
• Product Catalogue Option
• Directory Option



If you or somebody you know is looking for flexible part time work in a website sales role - Please let us know! We are planning to start somebody in this role in mid-June 2011.

We are based in Newport on Sydney's Northern Beaches. We are growing and need a person who is a good communicator to speak with our existing and potential clients about our website and web marketing products. The role will be a base hourly rate with healthy ongoing/trailing commissions for products sold.

There is a strong potential to earn a lot of money in this role as our products are in high demand and our websites are constantly generating warm leads. Our products have a high retention rate so that once you establish a customer base you will be earning ongoing commissions.

You do not need specific sales experience but must have good communication skills, be friendly and be willing to work hard to establish strong earnings. If inexperienced we are willing to work closely with you in the beginning to train you in selling and in our products.

Once established the role can grow to full time if desired by both parties.


The job will entail:

- following up warm leads over the phone which come through our website to sell websites, Search Marketing, Adwords and Social Media marketing products.

- pre and post sales support on the phone and email - assisting customers with sales related questions

- some cold calling of small businesses who would benefit from our products

- following up warm leads from our partner company's databases - these are businesses who receive emails and marketing material with our offers from our partners

- liasing with our web developers to establish new client accounts



If you or somebody you know is interested, please contact Jay Meredith via email by clicking here.



Last updated on April 23, 2011.